Architektur und Design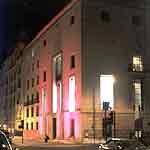 London gilt als eine der Hauptstädte für Architektur, viele bekannte Architekten haben ihr Hauptbüro hier, unter anderem Sir Norman Foster und David Chipperfield. Das Studium der Architektur ist feiner gegliedert als in Deutschland, so kann man auch Architecture Design studieren, was sich eher auf die reine Entwurfsarbeit konzentriert. Renommierte Universitäten wie die Architectural Association (AA) oder das University College of London (UCL) haben großen Zulauf.
Das Royal Institute of British Architects (RIBA)
Die RIBA ist die erste Anlaufstelle für jeden Architekten und Architekturfreund, ähnlich der Deutschen Architektenkammer. In der RIBA in London finden wöchentliche Vorlesungen der renommiertesten Architekten statt, die man nach den Vorlesungen meist auch persönlich sprechen kann. Die wechselnden Ausstellungen und Wettbewerbe sind sehenswert.
Links zum Thema: