The National History Museum
Cromwell Road, SW7, Tel. ++44 (0)20-7938 9123
U-Bahn: South Kensington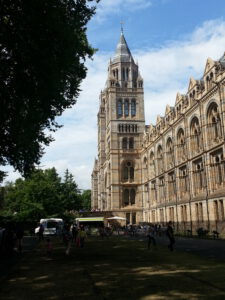 Auf dem Gelände der Great Exhibition von 1862 wurde das National History Museum, erbaut von Alfred Waterhouse, 1881 eröffnet, um den naturgeschichtlichen Teil des British Museums 

auszustellen.

Aufgeteilt in die Life Galleries und die neueren Earth Galleries ist das Museum eines der innovativsten und ansprechendsten Museen in London. 1998 gewann es den Large Visitor Attraction of the Year Preis (was soviel heißt, dass es eine große Attraktion ist und nicht nur für große Menschen.)

In der Central Hall siehst man sich einem Dinosaurierskelett gegenüber, andere Spezies dieser Art, sowie Säugetiere und Insekten kann man in den Life Galleries bewundern. Der Mensch wird in eine interaktiven Biologie erklärt. In den Earth Galleries werden sogar Steine zum interessanten Objekt, man glaubt es kaum! Auf jeden Fall einen Besuch wert.

Öffnungszeiten:
Montag bis Samstag von 10.00 bis 17.50 Uhr, Sonntag von 11.00 bis 17.50 Uhr.
Eintritt:
Der Eintritt ist frei.
Links zum Thema:
National History Museum
Einfach zu navigierende Seite mit Ausstellungen und Terminen. Unter Interactive gibt es sogar Online-Ausstellungen.